Een tijdje geleden had ik de eer om een newborn lifestyle reportage te mogen maken.
Waarin verschilt newborn lifestyle fotografie nu met een newborn geposeerde fotoshoot? Een newborn geposeerde fotoshoot kan ook bij u thuis plaatsvinden, maar vaak vind deze bij mij in de studio plaats. Een baby wordt dan in diverse poses gefotografeerd. Een lifestyle reportage is nooit in de studio maar daarvoor kom ik bij het gezin thuis in de kraamtijd. De newborn heeft wel de hoofdrol, maar het hele gezin wordt gefotografeerd.
Er wordt wel wat geposeerd, maar dat is minimaal. Jullie gaan gewoon de dingetjes doen die je als gezin doet, maar nu met de nieuwe baby erbij. En hier en daar pik ik de mooie waardevolle momentjes eruit om deze vast te leggen. Want die waardevolle momentjes zijn overal, in de kleinste dingen. Zo wordt er geknuffeld met de baby, een grote zus of broer helpt met het verzorgen van de nieuwe broer of zus of is gewoon lekker aan het spelen. Er wordt gebadderd of gevoed. Of wat dan ook wat jullie als gezin doen. Ik loop als het ware een ochtend of middag met jullie mee. Zo krijg je een mooie reportage van jullie gezinsleven in haar nieuwe vorm. En die eerste periode is zo bijzonder en belangrijk om vast te leggen, die tijd vliegt voorbij.
Onlangs was ik op bezoek bij Adam-Ferron. Ik mocht een ochtendje meekijken met hem en zijn grote zus en ouders. Wat een mooi gezin. Met een trotse grote zus en lieve ouders is deze knapperd in een heel warm nest terechtgekomen. Zo mooi om om die band te mogen vastleggen. Zo pril maar alsof het nooit anders geweest is♥`.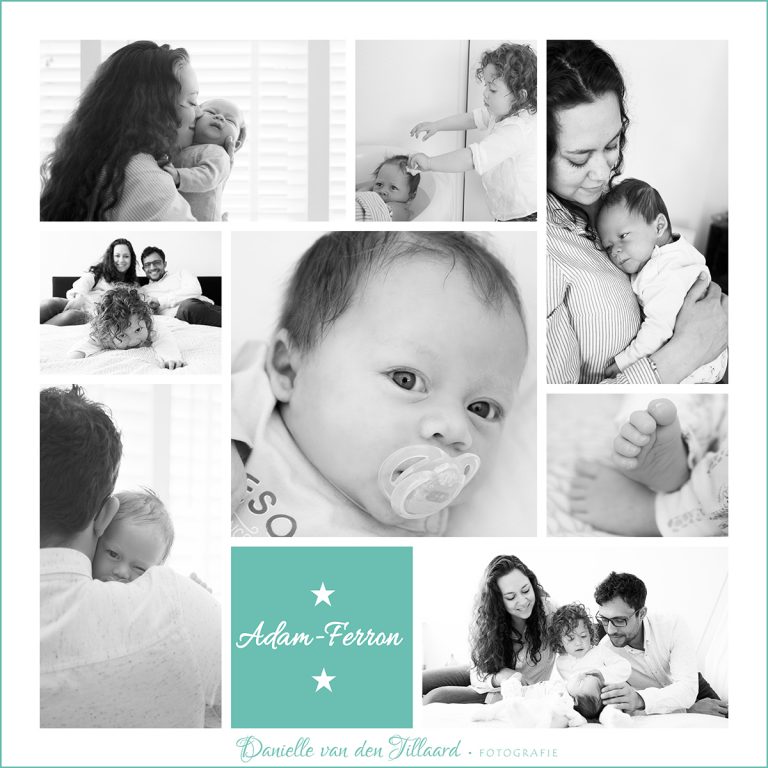 Ook geïnteresseerd in newborn lifestyle fotografie? Voor meer informatie over een reportage van jullie bijzondere gezin, neem gerust contact op.
Liefs,
Danielle